Strategy:
We have the one for you!
At Edward Vance Investment Management, we focus on long term investment principles and avoid short term market timing. We assist... Read More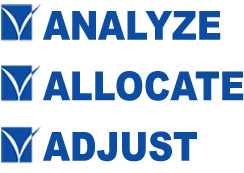 Investment Management
We offer an Investment Management relationship for clients who seek ongoing and continuous investment management and financial planning services,
In this relationship, we will design a customized investment strategy based on your investment time horizon, risk tolerance and cash flow needs. 
Once we have mutually agreed upon an investment strategy we will implement the strategy, monitor and assess fund performance, rebalance the investments periodically and provide quarterly performance reporting and aggregrated account holdings.
As part of the Investment Management relationship, we provide financial planning advice on issues relevant to your situation.  This can include general estate planning advice, insurance issues, tax planning, retirement and education planning and many other topics that come up over the course of the Investment Management relationship. 

As a Fee-Based investment advisor, we use only no-load mutual funds, index funds, exchange traded funds (ETFs) and investment grade bonds. We do not use mutual funds with any front-end or back-end sales commissions.
Under this structure, we charge a simple management fee which decreases as the investment base increases.

Contact Us today at 478-474-4700 or email ed@vanceinvestments.com to schedule a complimentary consultation to discuss your investment and financial planning needs.