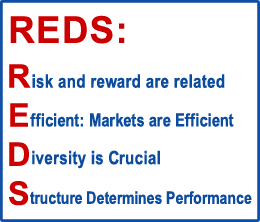 Our Investment Strategy
At Edward Vance Investment Management, we focus on long term investment principles and avoid short term market timing. We assist our clients in defining their risk tolerance and then develop a sensible and prudent asset allocation strategy for their portfolios. After detailed interviews with each client, we customize each portfolio based on investment time horizon, cash flow considerations and overall investment objectives and goals.
Once we have developed and agreed to an appropriate asset allocation strategy, we select low expense exchange traded funds and/or no-load mutual funds with strong long term performance for their class. We are an approved Dimensional Funds (DFA) provider. We agree with the investment philosophy of Dimensional Funds, Nobel Prize winning economists, and some of the world's leading financial scientists and experts. We screen our funds for risk adjusted returns, management experience and expense and turnover ratios. We periodically rebalance the portfolios to ensure that the investments coincide with the recommended asset allocation strategy.
We do not try to guess which sector or stock will be the "hot" pick. We do not try to time the market. We instead prioritize long term investment fundamentals and a strict adherence to the asset allocation strategy we have designed for each client.
We believe in passive, as opposed to active, investing. Our Investment Philosophy is summarized by the acronym: REDS.
R is for Risk. Investors expect to be rewarded in proportion to the risk they take. We help our clients determine their tolerance for risk and find appropriate investments for them.
E is for Efficient. Markets are Efficient: Trying to predict the future and beat the market often proves costly and futile.
D is for Diversification. Diversification lowers your risk and is crucial. The risk in not diversifying, in the words of respected investment expert John Bogle, is staggering.
S is for Structure. It is widely agreed that the asset allocation decision is the most important one an investor will make. We help you make that decision.

Contact Us today at 478-474-4700 or email ed@vanceinvestments.com to schedule a complimentary consultation to discuss your investment and financial planning needs.